LAKE BUENA VISTA, Fla. -- It was a play Jordon James had run with ease multiple times. Against Norco (Calif.), the Corona (Calif.) running back took a pitch to his left and started to think big.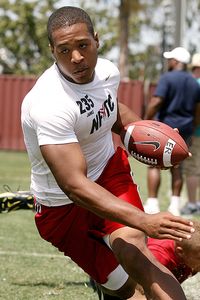 Tom Hauck for ESPN.com
Jordon James is out to prove he's one of the best.
Then he slipped. As James fell and tried to brace himself with his right arm, a pair of Norco linebackers jumped in and drove him to the turf. The weight of the two defenders caused his arm to break, ending his junior season.
"My arm looked like a snake," said James, who had 117 rushing yards in the game prior to the injury. "I knew my season was over just by the way my arm was shaped. It was really frustrating. I started off on a good foot, and then that happened. But my parents always say there's a blessing in disguise. Everything happens for a reason."
Since that injury this past season, James has worked to establish himself as one of the top running backs in the country. The next step will be at Saturday's Champion Gridiron Kings, where he'll be one of 64 skill position players taking part in the event held at Disney's Wide World of Sports Complex as part of the ESPN RISE Games presented by Target. He'll be participating in Gridiron Kings with his high school teammate, standout defensive back Demetrius Wright.
Prior to the injury, James was well on his way to a monster junior season. In only four and a half games, he ran for 1,132 yards and 10 touchdowns on 130 carries, and caught six passes for 88 yards and a score. His best performance came in a 30-16 win over Chino (Calif.) in which he ran for 391 yards and four touchdowns on 30 carries. He also topped the 200-yard mark against Arlington (Riverside, Calif.) and California Interscholastic Federation Division I state champ Centennial (Corona, Calif.).
As a sophomore, James rushed for 1,405 yards and 12 touchdowns in a season highlighted by a 292-yard, four-touchdown effort against West Ranch (Valencia, Calif.).
Despite the eye-popping numbers, the ESPNU 150 Watch List player still feels like he's underrated because of how much time he missed as a junior, a key year for all football recruits.
"I think I'm still under the radar," James said. "A lot of people have more film than me. I have four and a half games of film, and other people have 14 to 15 games of film."
Without much film, James set out to prove himself at various camps and combines this spring, where he displayed his speed (4.4 seconds in the 40-yard dash) and athleticism (40-inch vertical leap).
Colleges have taken notice. James said he has set up trips to visit UCLA, Florida, Notre Dame and Arizona, and is deciding between Washington and Tennessee for his fifth visit.
But foremost in his mind right now is Gridiron Kings, yet another setting for James to prove he's back and better than ever.
"I want to show that I'm one of the best, if not the best, running back in the nation," he said. "No question."
Jon Mahoney covers high school sports for ESPN RISE Magazine.